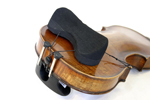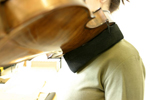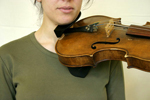 Towards the end of the research, our technician Servaas Franssen developed a procedure for making custom made shoulder rests for some of the students. These shoulder rests were especially handy because we could form the shoulder rest to complement the player's already completed custom made chin rest. They were useful for the students who couldn't find suitable store-bought models, and who weren't satisfied with cushions or shoulder rest substitutes. They are now in constant use by these players.
The custom made shoulder rests are formed to the contour of the body of the player and to the instrument. Their wedge-like shape keeps the instrument securely on the collar bone. The shoulder rest is placed so that it does not interfere with the left shoulder joint. They do not dampen the sound as much as a sponge does because they are made of hard rubber, and are positioned close to the edge of the back of the instrument, avoiding full contact with the resonant surface. They are secured on the instrument with a system combining elastic and non-elastic bands which keeps the shoulder rest in place without slippage, while allowing the player to move as needed.
We are continuing development of these shoulder rests in the hope of perfecting the procedure, and creating a testing kit of a series of hand made shoulder rests to give our students even more options.
Meanwhile, Servaas Franssen is making custom made shoulder rests, as well as continuing to make custom made chin rests, for individual players. To read more, you can visit his website: www.chinup.nl