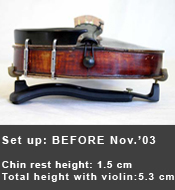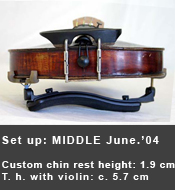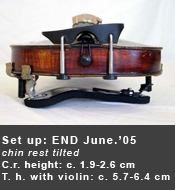 * Measurements given are taken at highest point on chin rest. When the tilt of the chin rest is great, this is also noted.
1. Joining the research
My first contact with the Alexander Technique was in September 2003 during a master class at the conservatory. I was impressed with the improvement in my sound which came from just finding the balance of my body. I realized then that to play in balance I had to change the angle and placement of my violin. In order to do this I knew I needed to change my chin and shoulder rest -- but how?
When I saw the brochure about this research, knowing that I had a lot of problems with my back and my neck when practicing, I thought it was a very good idea to join it.