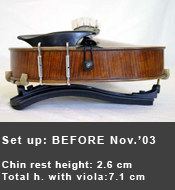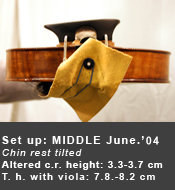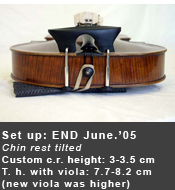 * Measurements given are taken at highest point on chin rest. When the tilt of the chin rest is great, this is also noted. Measurements of the shoulder rest are not included. *
1. Joining the research
From the moment I started playing, I had pain. In recent years I had found it hard to play more than an hour without pain. I always took the pain for granted and never thought that it could be solved. I thought every musician had to have pain.
When I came to Utrecht in the fall of 2002 I found out about this research project, which really ended up by "saving me." I was lucky because I worked as the research assistant for the project, so I was on the scene quickly and could look forward to the changes that would come about from the research.
We took a year to prepare the equipment and everything needed to work with the group of musicians. During this year I searched through books and articles about violin and viola playing and found out that the chapters about how to hold the instrument are the shortest. This topic was apparently not seen as important.
When the time finally came to start the practical work and I changed my chin and shoulder rest, the pain went away immediately. I was amazed. The day after I made the changes, I was taking part in an orchestra project with a double rehearsal which totalled more than six hours; I didn't have any kind of pain. I was really surprised and happy. I couldn't believe it.