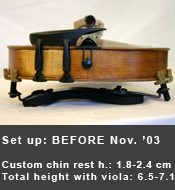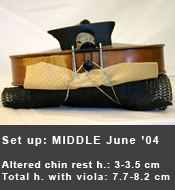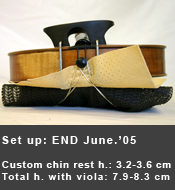 * Measurements given are taken at highest point on chin rest. When the tilt of the chin rest is great, this is also noted. Measurements of the shoulder rest are not included.
1. Joining the research
I wanted to participate in the research because I just had got a new viola which was much bigger than my previous one. The larger size and weight of the instrument put new demands on my body, so I was looking for a way to make my playing easier in order to get more tone and to get less tired from playing.
During the research I became much more aware of how I am playing. If it doesn't go well, I know to stop and first get things in order in my mind before starting again. I still get tired sometimes, but if I feel pain now I stop immediately to check what I am doing wrong with my body. I can now play much longer.