4. What worked for me
Alexander Technique and equipment
I have learned to feel my body better, to feel more what I am doing; I think that is helping my playing a lot. The main thing I learned during the research, from my Alexander lessons, was to try to feel lighter, what it really meant to feel "relaxed" in your muscles. Before, "relax" meant for me to be heavy and "going down." Compared with all the other things I learned, this is for me the main thing that I changed.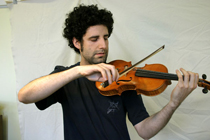 My chest is freer and more open. My arms feel lighter.
When I started the research, my chest was very closed and stiff. Now my chest is freer and feels more open in general. I learned to feel when I have tension and to know what I have to do to become more relaxed. This general feeling of being more relaxed came mostly because of the Alexander Technique lessons, but of course also from the equipment. The chin rest made the most difference. (I haven't yet found a shoulder rest good enough.) I think that it is a combination of the lessons and the equipment that helped.
The group
I liked being in a group of musicians working together. Even though I didn't see a person with exactly the same problems that I had, I liked that we could speak about this or that together. Many things I heard in the group lessons helped. For instance, when Iren suggested something then you also wanted to try it!